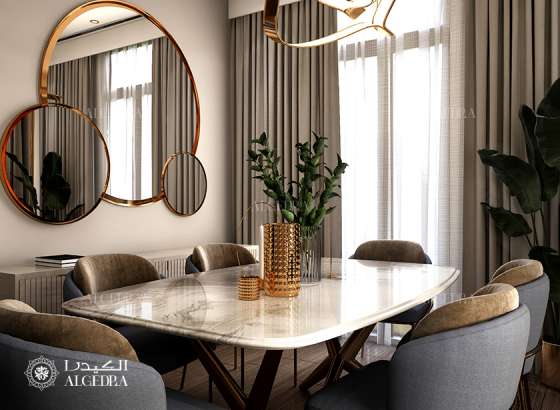 Need dining room inspiration?
Whether your style is casual or elegant, you can be sure to find the perfect dining room interior design for your home in Algedra!
The dining room is a very important space in any villa or a house, for it's a place where the family or guests gather at eating hours. Hence, keeping that in mind, the positioning of each item such as tables, chairs, wall hangings, accessories, and color scheming etc. should be very carefully selected.
To make this process easier for you, we at ALGEDRA are working carefully to provide you the most artistic and extravagant ideas for your dining room design. Our dining interior designs are famous for its elegance. Our elegant dining room designs will give a unique look to your home. Specialties include luxury dining designs, modern dining hall designs, classic dining décor, contemporary dining room design etc.
and if you want to get in touch, email us at info@algedra.com.tr and get a chance to work with the best decor company around Middle East and Turkey.