As it is said in the popular proverb that the shortest way to a man's heart is his stomach, and thus the kitchen is the heart of the house and the ideal place that every family desires.
Thinking about expansion and a good re-planning of the space became a basic need. Instead of trying to crowd the apparatuses and storage and narrow the space with equipment, we as designers had to create additional spaces in which we could blend the living spaces in and out of the kitchen.
We can start thinking about designing more kitchen worktops and incorporating comfortable seating options while you work. The trend to design more flexible spaces in order to invite more family to the kitchen area and consider it a miniature dining room, performs the required tasks.
The kitchen is finally getting the attention it deserves, especially when it comes to thoughtful design, and the past year and a half has seen major innovations in the heart and soul of the home. As we watched the kitchens become full of color, thoughtful lighting and the presence of technology explicitly and clearly, and filled with natural handcrafted materials, the kitchen became the most interesting and exciting place for the family to work, play, gather, eat, and of course; to cook.
There are many different and trendy kitchen design ideas for 2022, where nature-inspired shades and elegant, sophisticated colors will take center stage.
Be prepared to consult with professionals in the world of interior decoration and find inspiration for your kitchen design project. Here are some of the best kitchen design trends of 2022, to point you in the right direction.
1- Eco-friendly kitchens
As mentioned earlier, nature-inspired kitchens will become a popular feature in the trendiest of kitchens in 2022.
Think of final touches of neutral and natural: pale cyan and fresh shades of forest green are all perfect eco tones that go with other cheerful colors, such as yellow and orange. Furniture in natural wood finishes will flawlessly complement the kitchen and give it a sense of warmth and luxury.
Moreover, don't forget to consider accessories too! To complement the ultimate eco-style, consider botanical prints for tablecloths and curtains, live indoor plants, and terracotta and handwoven accessories.
2- Sunny and bright kitchens
After years of white kitchens and a somewhat dreary year overshadowed by the spread of the Covid epidemic and quarantine, the colors are creeping again, and we say yes to more radiance, happiness and brightness.
In 2022, expect to see more of the cheery yellow and burnt orange colors used in kitchen doors and walls.
These color tones will make your kitchen look cool in the summer, able to create a cozy atmosphere as well for fall 2022, which means you'll have a modern kitchen all year long.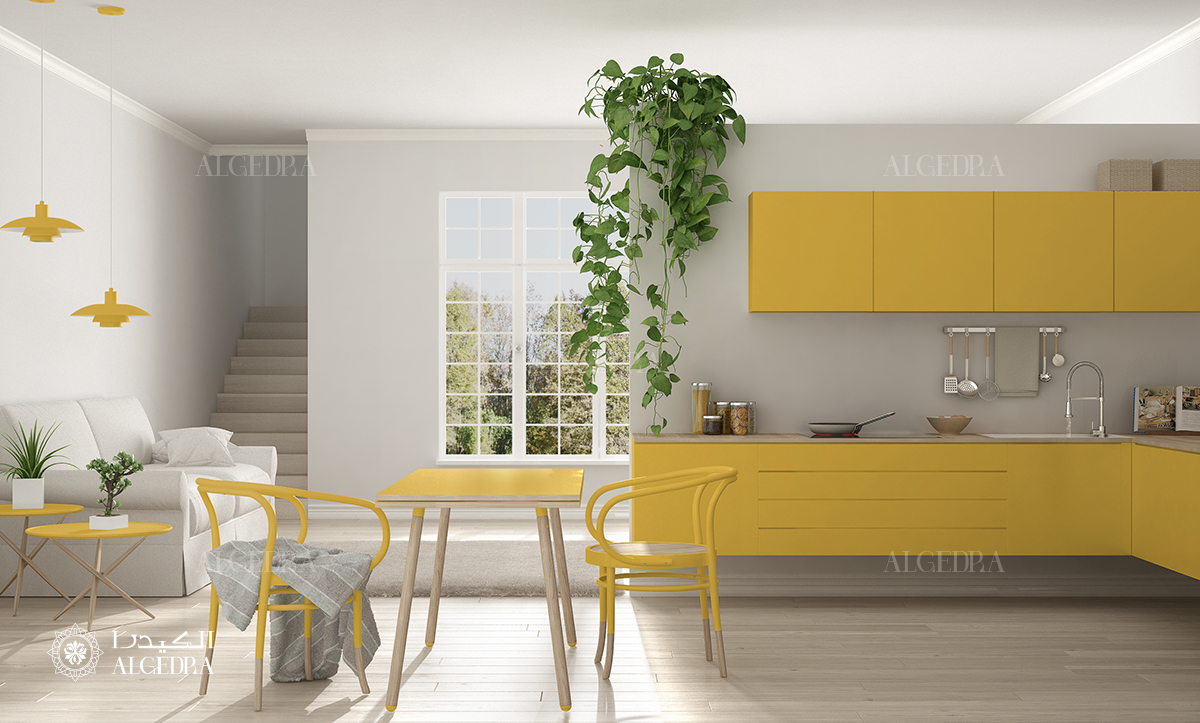 3- Simple kitchens and minimal use of décor
Sometimes, a little is more. If elegant simplicity is your goal, then let us provide the ultimate simple inspiration.
As the name implies, the furniture, decor and accessories in the kitchen should be minimal. This will make your space appear larger. The term simplicity is a great option for small or narrow kitchens. If you choose this style, the geometric shapes are clearly dominant.
And when it comes to choosing shade for your minimalist kitchen, opt for neutral and quiet kitchen doors and tables, and avoid anything too bright or vibrant. Opt for built-in appliances tucked into the furniture, because any outside objects will make the kitchen look antique and further clutter the space.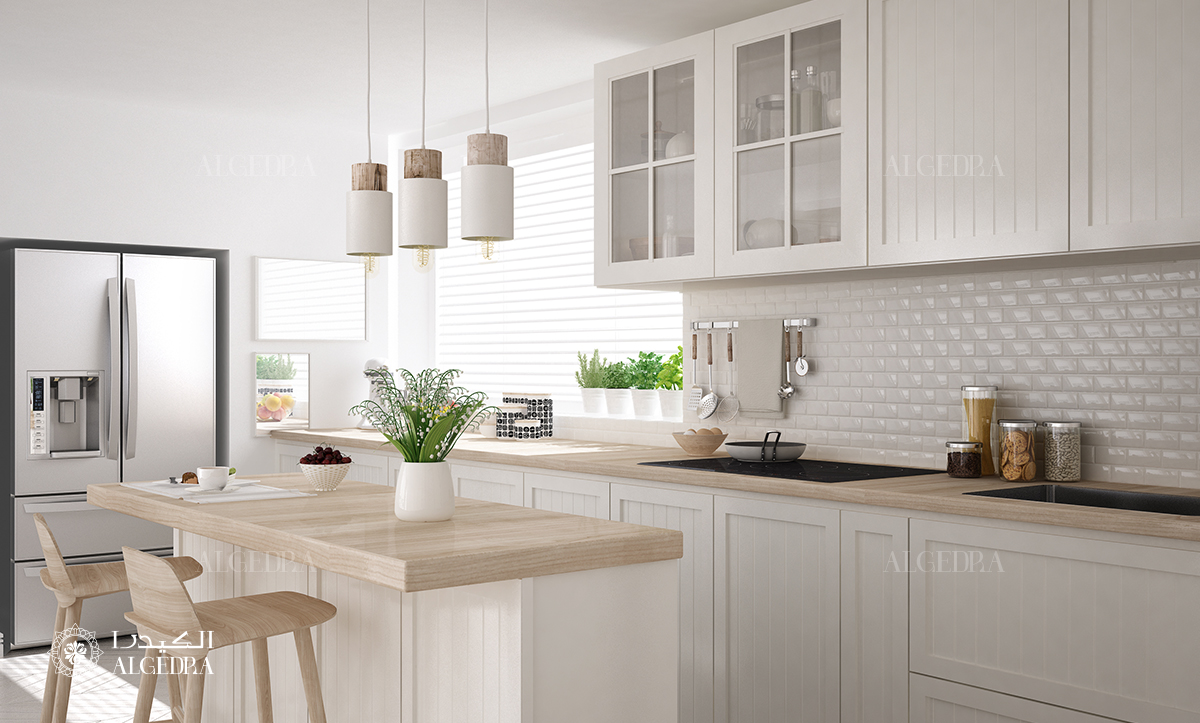 4- Eclectic kitchens
Eclecticism is the exact opposite of simplicity, so if you prefer something more diverse, this trend is one to consider.
An eclectic kitchen will combine different textures, patterns and shades to create a truly unique space. But to avoid your kitchen looking overdone, it's not a good idea to combine more than three styles.
If it is done wrong, you can risk your kitchen looking messy and cluttered but when done right, it can look like an organized work of art that has been carefully designed layer by layer over the years.
Eclecticism is one of the most difficult decorating styles to choose, but it can be more useful and create a more memorable place. It requires a lot of creativity. So, if you are the arty type, you might enjoy the opportunity to turn your kitchen into a masterpiece in 2022.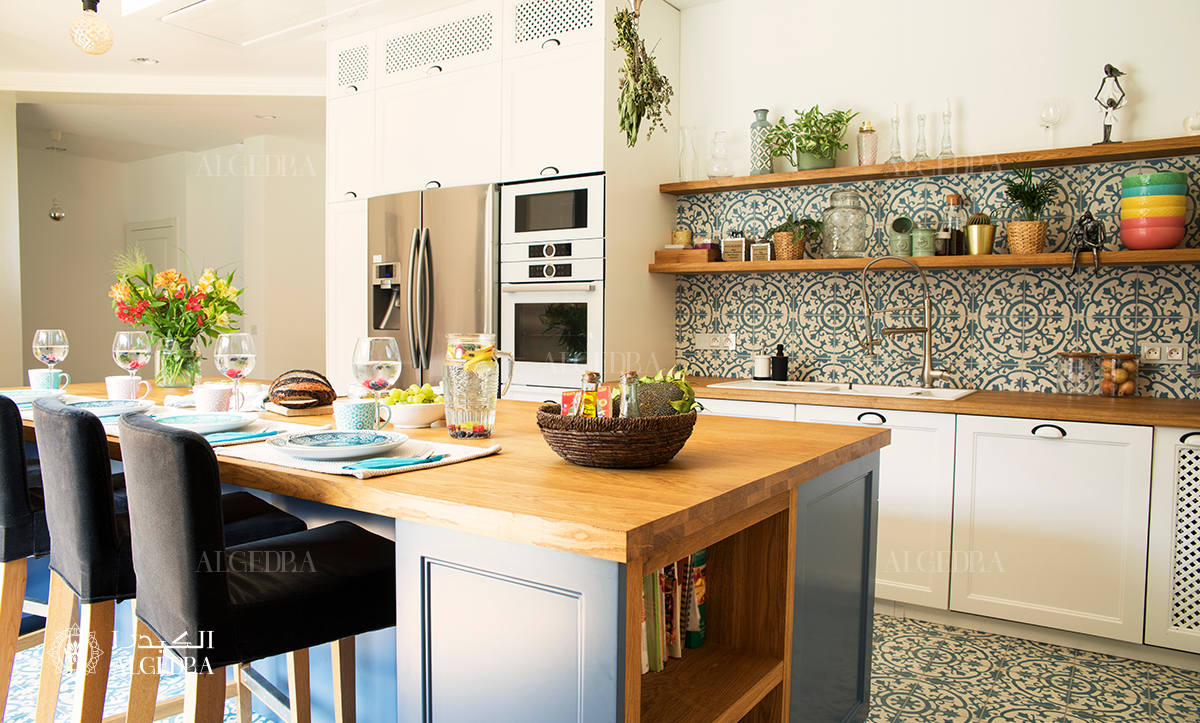 5- Kitchen living room furniture
With the increasing popularity of open plan living rooms over kitchens, it is not surprising that living room furniture is becoming more and more popular in kitchens. Now more than ever, kitchens are the heart of our home, so creating a comfortable and well-designed space to sit and spend time is essential.
Kitchen lighting also gives homeowners the freedom to choose. Spectacular design pendants may increasingly be used in kitchen interiors. Spotlights are still essential, and the designer may resort to placing dim lights that suit the atmosphere of the place so that the lighting plays an important role in bringing the interior kitchen atmosphere closer to the living room.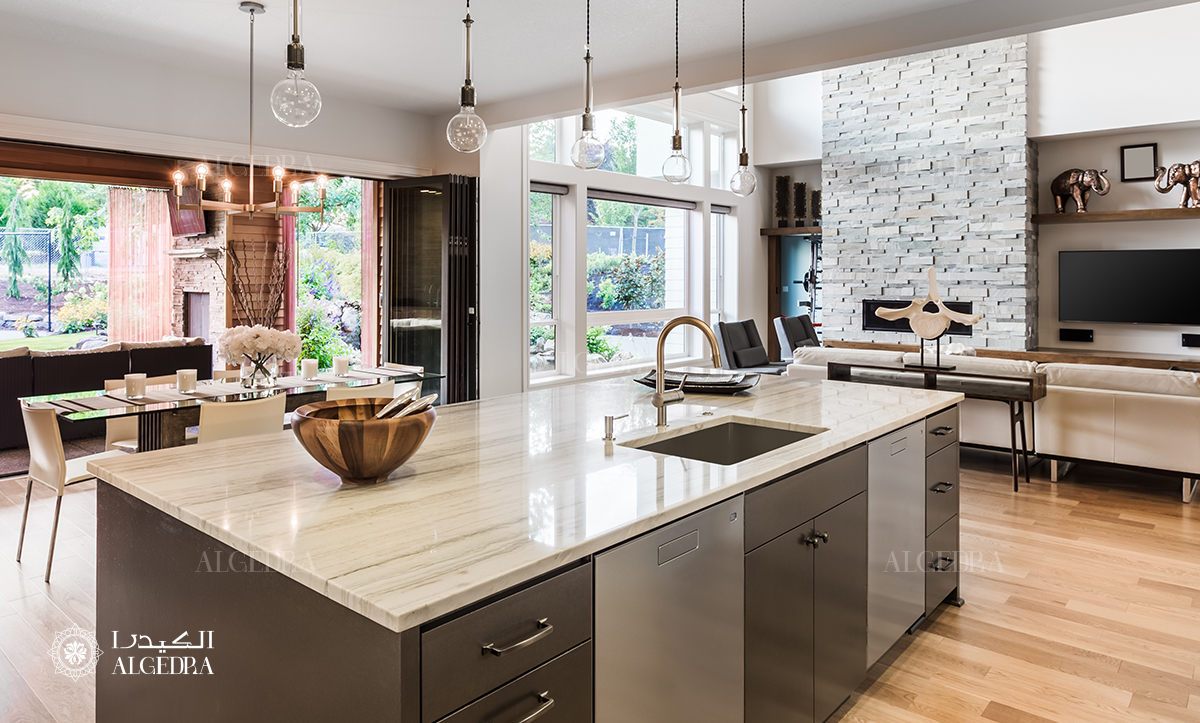 So there are three words that can be used to describe the kitchen design trends of 2022: eco-friendly, bright, stylish and comfortable.
If you're looking to transform your kitchen for the next year, this is the perfect time to start deciding what type of style you like best.
Browse Algedra Interior Design and Decorating Kitchen Designs collection to find a color that will inspire you to choose your kitchen.