No better time to talk about Alpine interior design than the festive winter season, or is it relevant any time of the year?
As it says from its name Alpine interior design derives its inspiration from the snowy locations of French Alpes. Think of the coziest winter evenings in Courchevel with a view surrounded by white crispy snow and the room lightened by the light from the fireplace.
In the best traditions of the Alpine region, mountain houses were built from wood and stone, and their decor included all the necessities to keep warm and cozy, so the first thing to know about Alpine interior is that the most distinctive feature characterizing this decor style is the use of wood.
1.Use of wood
The interior is decorated with natural wood from floor to ceiling. If we talk about wood in Alpine style interior, you cannot overdo it. It's a heaven for those who love natural comforting materials, as wood is believed to be healthy. Specially treated wood used for fit-out with a time changes the color, which makes it even more beautiful. When you first move into a home in such style, you may feel a fresh wooden scent. It fades away after such time and leaves a subtle, barely noticeable everlasting freshness of the forest in your home. It's one of those styles that brings you closest to nature.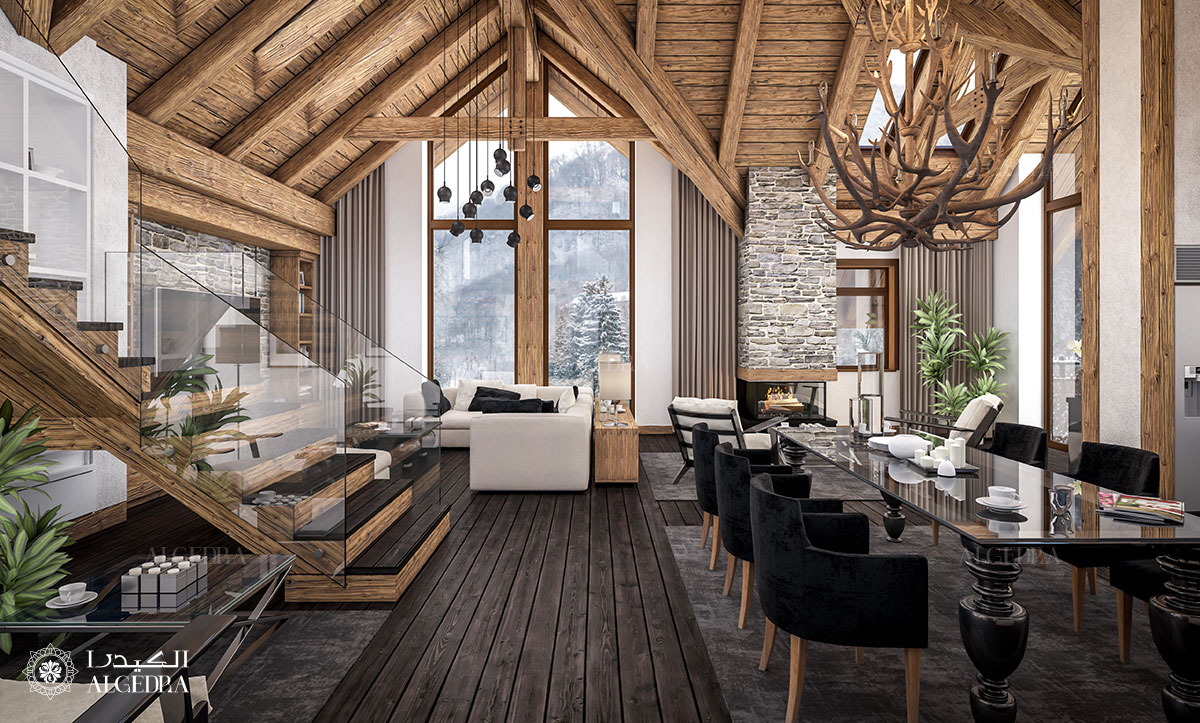 2.Style adoption
Another important thing to understand is, even though, this style of interior decor originated from the mountain chalets, with the development of architecture and construction, it has evolved and got adopted for the wider variety of residential interior spaces. Modern Alpine design, also called Chalet style, nowadays is considered not only for mountain houses, but also for vacation resort-like homes, beach houses, and can also be applied in a villa design if implemented correctly.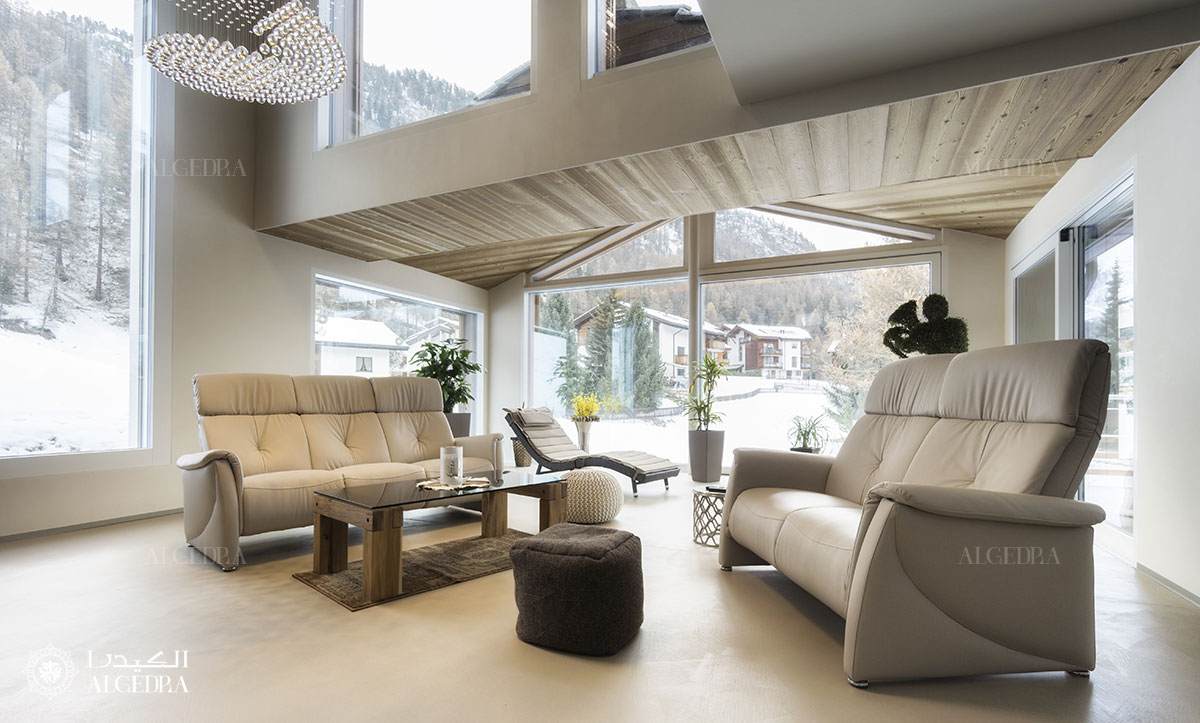 3.Interior architecture subtleties
Interior architecture of such style stands out with high ceilings, massive wooden beams and partially stone and break walls, and surely, tall floor to ceiling windows giving a panoramic view of the outdoors. Those features make it perfectly applicable in modern villa design, not to forget the importance of landscape design, as surrounding nature complements the Alpine interior by its ideology. With the right proportions of materials and architectural solutions, this interior can be implemented even in hot climate locations like Dubai.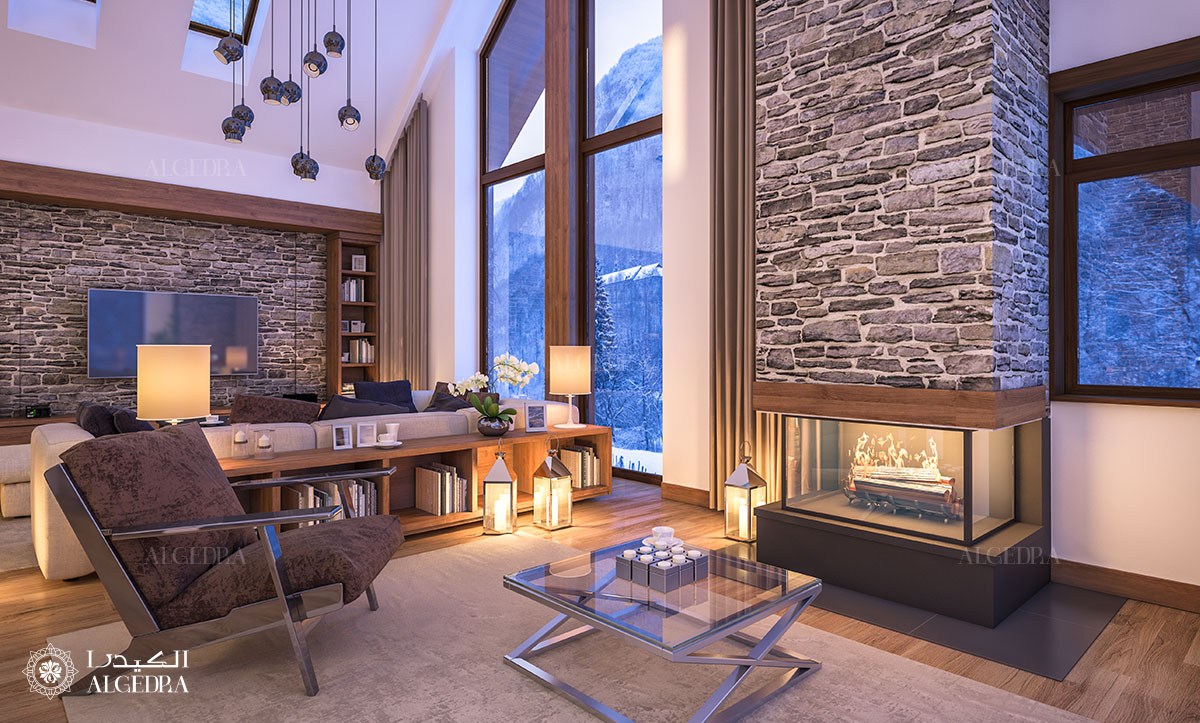 4. Colors scheme
Considering wood is a dominating material, the base colors of the interior are all hues of browns. Warming undertones of light beige oak or dark chestnut, depending on your wood choice, your interior can be very bright or very dark. Nonetheless, having such a versatile color palette as a base gives unlimited variations of combinations. The most common complementing colors are beige, grey, white, and black, but not limited to add other vibrant colors according to the preference. Your interior- your choice.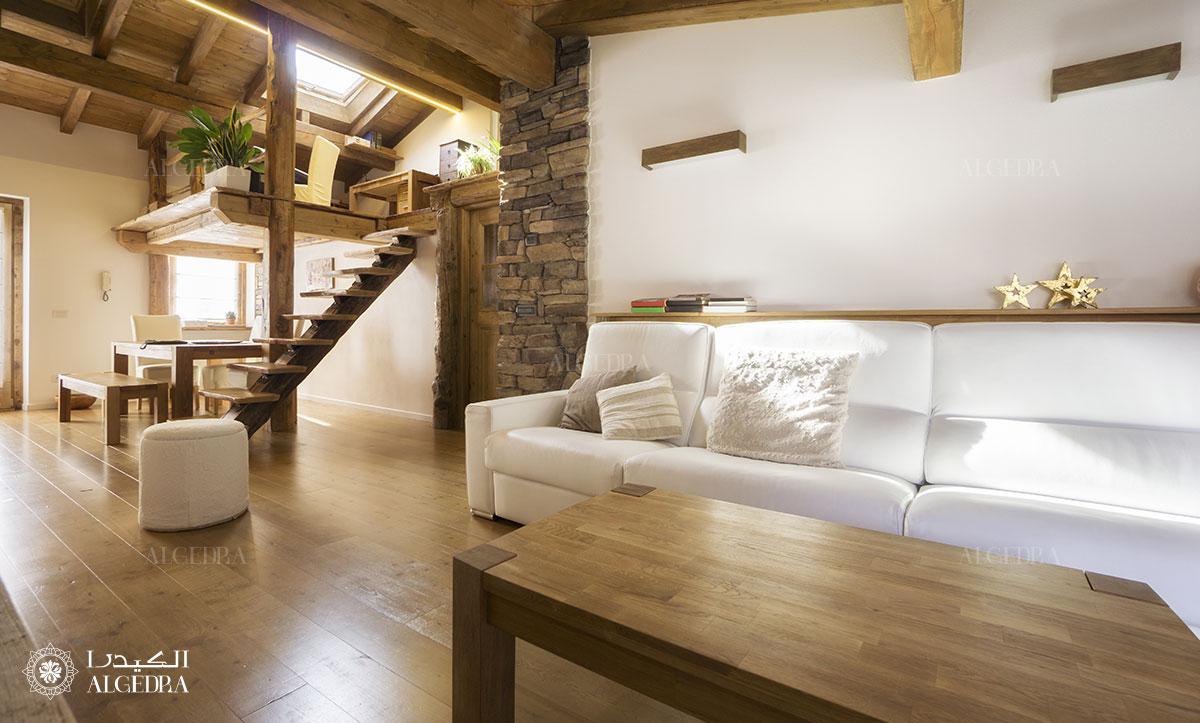 5. Must have item
Alpine-style interior is not complete without a fireplace. Initially, it played a purely functional role of heating the home, however in modern Alpine style is an important decorative staple item that luxury home must-have. Stepping away from chimney-like stone fireplaces, with the latest technologies, you have a choice of having the most elegant fireplace from glass, or iron, right in the middle of the room as a focal point, or have an imitation of the fire in electronic form, the latest technology trend, which also works well as part of a smart home.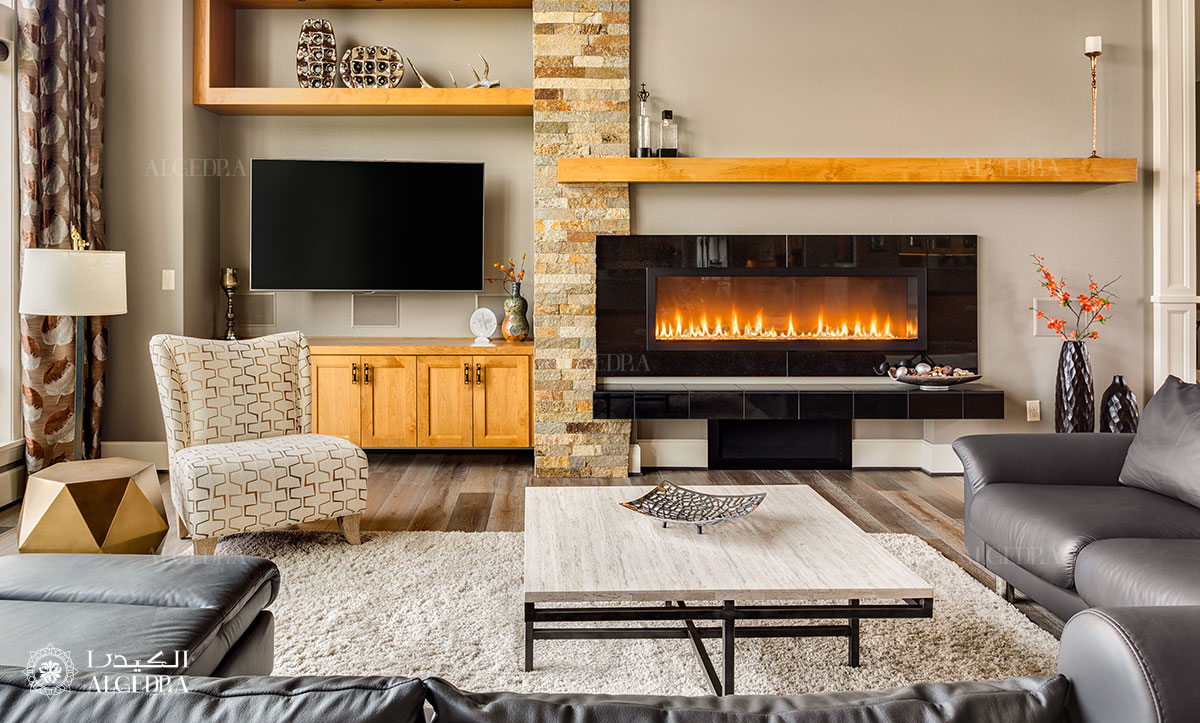 6. Furniture
Traditionally furniture Alpine style is simple, massive, and comfortable, with a rustic charm. Extra-large bed in the bedroom with a sloppy ceiling. Wooden table in the dining room, which is often connected to the living room. Armchairs and sofas to snuggle by the fireplace. In contemporary Alpine style, we see the use of modern furniture and new forms of a more elegant feel.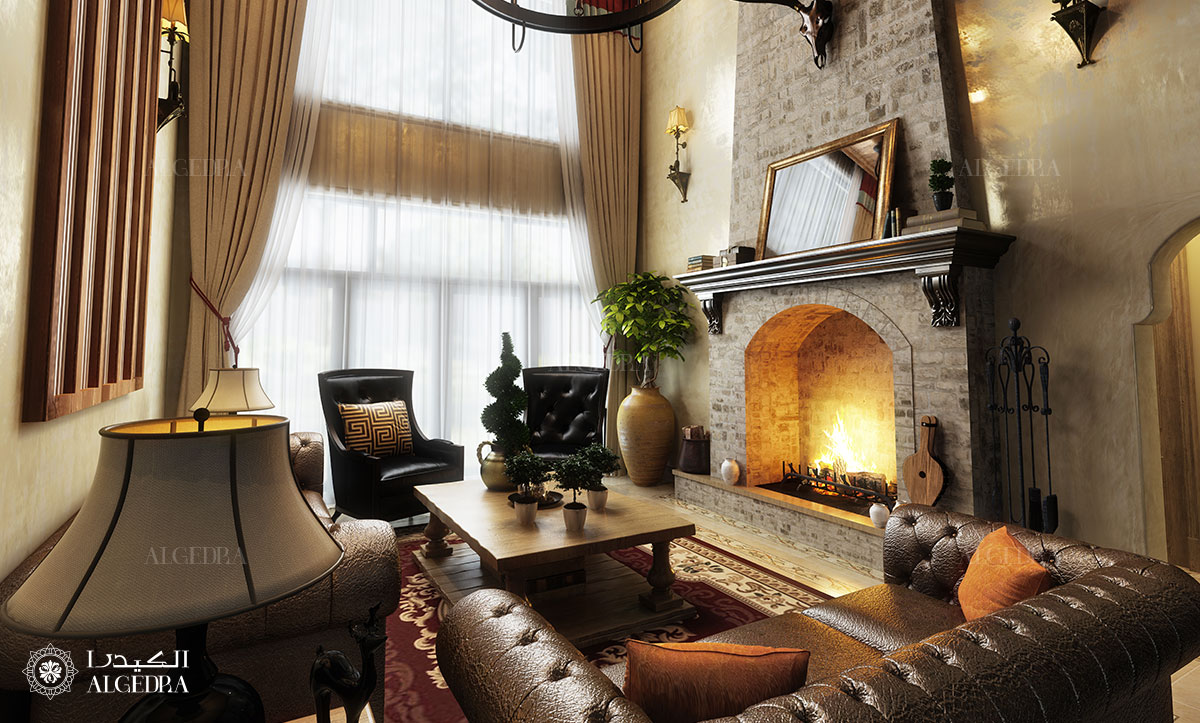 7. Decor finishes
Back in the years, mountain houses often were used as hunting lodges, such as decor items like animal fur and horns. Those days are long gone, and those elements of decor were substituted by new sophisticated items. Even though traditional items are still common, contemporary art and various collectibles finding their way into this home decor more often. What stays unchanged in Alpine style is faux fur blankets, plush pillows, and soft carpets, which are the finishing touches of such decor.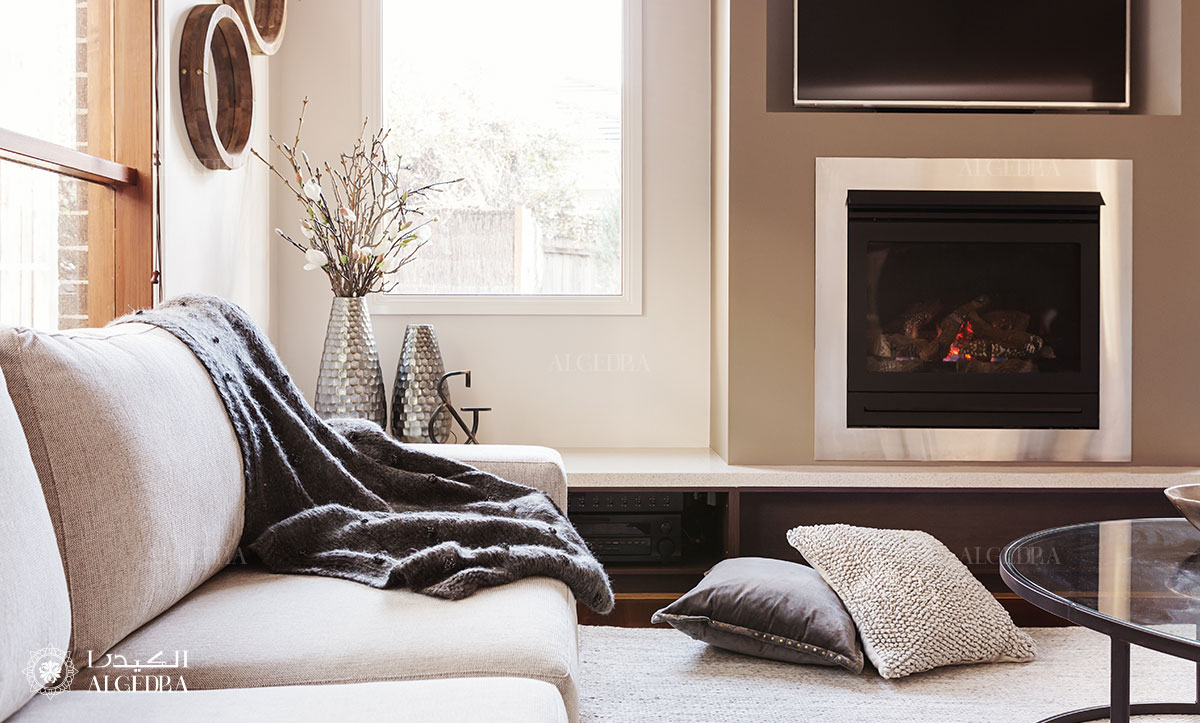 To summarize, the richness of Alpine style is expressed in simplicity and expensive natural materials used for decor, which makes it a perfect choice for admirers of a laidback yet cozy and elegant home.
If you are fascinated by this interior style and wonder if it can be implemented in your home design project, fill in the contact form, and get a consultation from our designer. Or search our gallery for more style inspiration.