The balcony is considered a beautiful and elegant touch to the house and a source of natural lighting, it also provide the house with freshness and vitality.
Decorating the balcony with natural flowers or plants utensils hanging on the fence of the balcony will provide a very elegant especially if you grow jasmine or Hawaiian flowers but only if the balcony is large. If small, you can grow Asparagus, roses, Jasmine, night-blooming cestrum. You can grow climbing plants which would work as a natural fence if you live on the ground floor. You can use semi-transparent or patterned glass for the fence so it won't work as an obscure for the sun light. ALGEDRA designers can transform a small balcony to colorful garden.
Plants are an important factor in the art of decorating a balcony because they provide a sense of peace and tranquility. You can place plants in pots on the floor or on the fence or hang them from the ceiling. Planted pots such as leafy plants, flower plants that can cope the weather are placed outside the house in rectangular boxes designed especially for such plants.
As for decorating the walls and the balcony floor, you can grow a full wall of climbing plants that will cover the whole wall, creating the effect of a hanging green carpet. You can also design some plant holders to be near the wall of the balcony with wall mounted hanging plastic pots.
As for the balcony's fence, you can decorate it with colorful flowers along with green plants, and decorate the ceiling with plants pots. Inside the balcony, you can grow a lot of climbing plants. The use of mosaic is very effective and will increase the beauty of your balcony, especially now that it comes in many different designs that are very easy to apply. In addition to that, the oriel (it is a piece of wood in the shape of multiple cubes where climbing plants are planted on) is covered by plants completely which provide a beautiful and special look to your balcony.
ALGEDRA's experts advise range of ornamental plants that are suitable for balconies, including:
Fine and coarse asparagus, crimson roses, aspidistra, geranium, begonia, clivia, Ruscus, begonia and grabera.
-Vegetables and fruits that are suitable for planting in the gardens of balconies:
Strawberry (can be grown successfully in pots or drums)
You can plant medical and aromatic plants such as basil, wormwood, as well as mint and lemon grass.
It's preferable to plant some economic plants, such as dill, mint, and parsley.
Balconies site is of great importance according to ALGEDRA experts in the high success rate of cultivating ornamental plants, which are:
Open site: if the important conditions for growing plants for a long time are available. Because most plants grow in balconies positioned in the north or west where a large amount of sunlight is available, because they need light and heat.
Temporarily covered site: they have moving glass curtains, are left up at summer but put down in winter for Western balconies to create the right atmosphere in terms of preventing cold air currents and keep them warm by sunlight. It helps keep the warmth inside the balcony which means you can have the plants in winter and summer.
Permanently covered site: These balconies are covered with fixed glass they face the western areas in cold places. You can beautify them by adding evergreen leafy plants and flowers, you have to synthetically warm it in winter and condition it with water in the summer.
Usually, green plants that grow in balcony have unique shapes, colors, and leaves. Some of them have seasonal colorful flowers, some of these plants are short or crawls on the ground or extend on the surfaces of the pots or their sides. There are some plants that extend higher than trees and shrubs that have lots of colorful flowers, these plants will make your balcony very beautiful if you take very good care of them, protect them from insects and the wind.
Advice for when you buy plants:
Look closely at their leaves, and try to look for any defects or damage.
There are some plants that cannot grow if a part of its leaves have a defect, such as the Sansevieria, so be careful when you want to buy plants.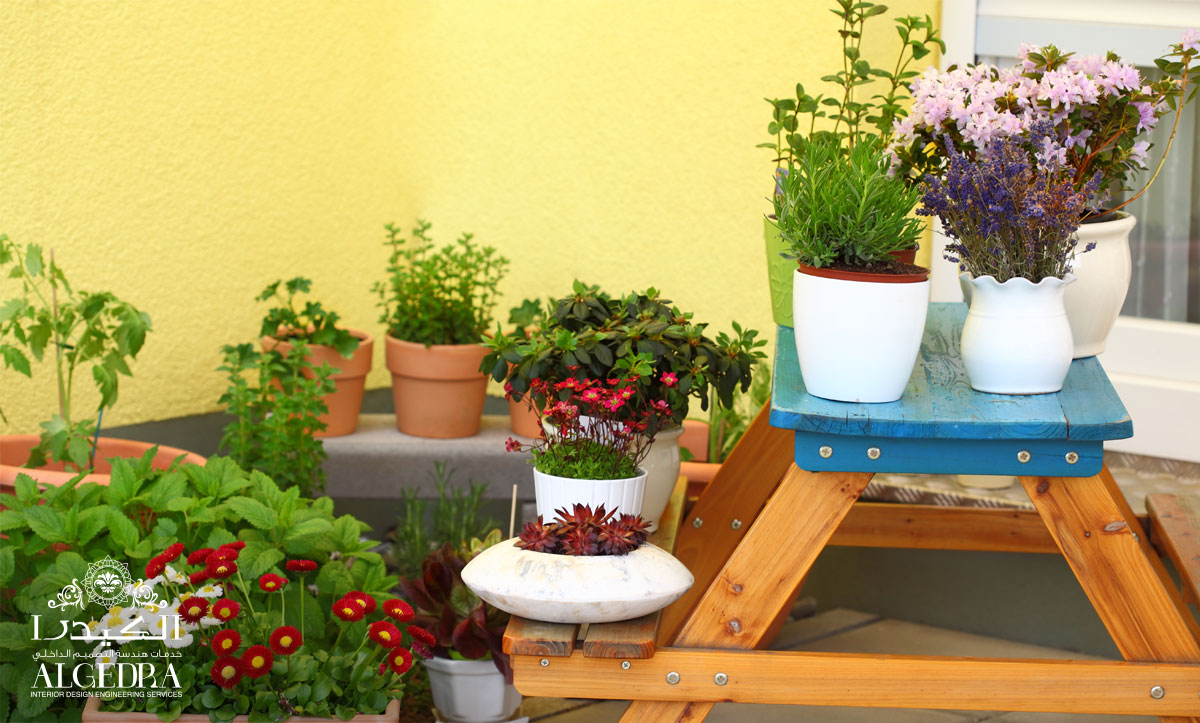 Advice for when you buy the pots:
Pottery pots: made of thermal mud, characterized by porosity, aeration and drainage of excess water they are suitable for the growth of the roots. These pots are painted from the outside to fill the pores but use other pots to coordinate the place but only use soft colors that do not overwhelm the beauty of the plants placed in pots.
Plastic pots: made of plastic in various colors and forms. They have a space in the base for drain aging excess water so the roots won't suffocate or rot and through the bottom dish it gets rid of excess water. Preferably use these pots for plants that do not require constant irrigation, especially small sizes.
Ceramic pots: are made of ceramic or polished porcelain that comes in different colors, shapes, and sizes and is also non-porous and does not have a space to get rid of excess water and are therefore used as a cover for the external clay pots. And often are placed in fixed locations because they are heavy.
Trays: they are square or rectangular or circular pots but with a simple depth (about 5 cm), and these are made of porcelain or ceramic or plastic, used for cultivating plants that don't need constant irrigation , and because of their different shapes and sizes people take advantage of them to make beautiful coordination
Wooden tubs: made of special wood, such as cypress trees wood, a wood that is resistant to moisture and takes different forms such as rectangle, and square and round. This wood is internally painted with Tar or paneled with zinc to prevent the timber from absorbing the water. They are coated from the outside with colors to keep the excess water inside after irrigation. They are usually used for growing large plants.
A lot of wall mounted pots are used, they are made of plastic and their hangers are made of the same material with a plastic dish connected to the plastic pot to receive leaky water after irrigation
Soil types used for agriculture
Compost soil: This soil suitable for cultivating gardens.
Peat moss soil: This imported industrial soil is sold in nurseries and stores that sell supplies for shade plants and peat moss soil is considered one of the best soils for shade plants
Mixed soil: taken into account when preparing the soil to make sure the silt and sand are free from insects and worms