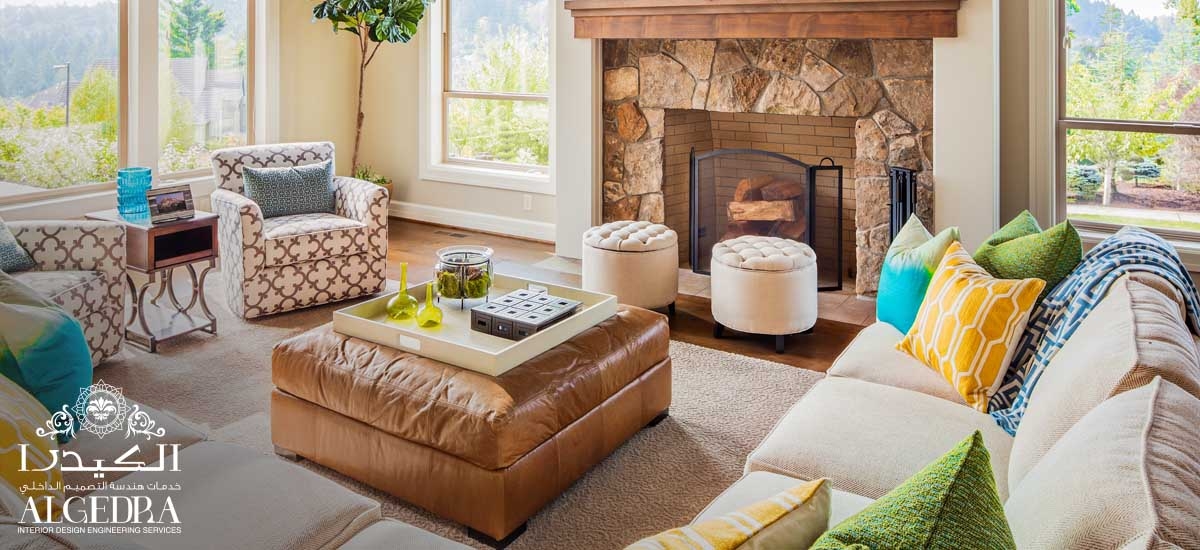 The living room is the room that gets most of attention from the house lady, as it is one of the most important rooms in the house. It is considered as the mirror of the house and the first thing that the guests see, many activities and meetings between the family members and their friends are held in this room. That is why it must be comfortable, exciting and should vibrate vitality. So to maintain an elegant and luxurious look we should pay attention to the smallest detail. Here are some basic explanations by ALGEDRA Interior Design.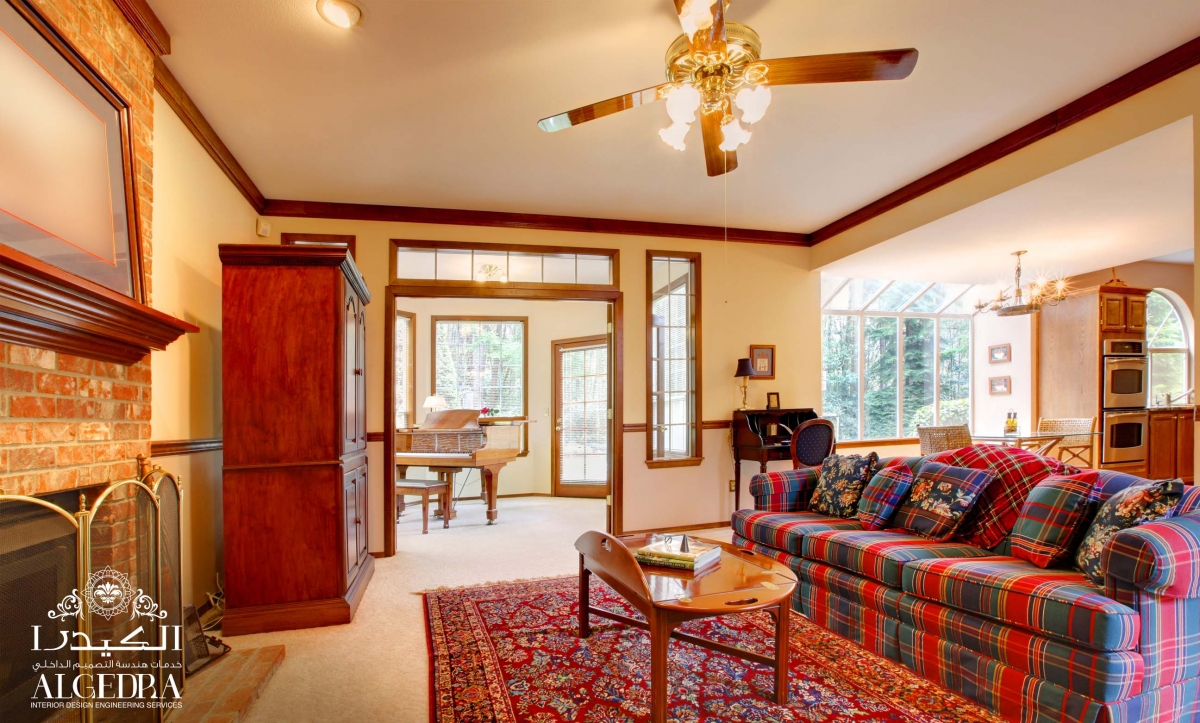 In luxurious and large houses the living room has a view on the garden and the pool if it exists - this view gives the living room a spacious and elegant look.
The living room can be simple and modern, it can be very simple and effortless and elegant at the same time.
But a living room in the countryside whether it's large or small and is characterized by simplicity, intimacy, and warmth, it is distinctive and comfortable for family members, friends, and guests, by adding some beautiful fireplace and simple accessories.
It can be characterized by a special style such as the Damascene Arabic seating, Moroccan, Indian or English and many others.
When the room is small the choice of multifunctional furniture is an excellent idea. Small-sized sofas distributed on the perimeter of the room and simple and small table in the center will create a space in the room and room for comfortable movement inside it and does not disturb those present therein.
When choosing colors for the living room it is very important that these colors are comfortable non-irritating and tiring for the eye and soul. Choose pastel colors and stay away from dark gradients of gray or even blatant red or green grades. Wallpaper is a smart choice no doubt, simply choose the color that you love for furniture and small decorations such as lamps for lighting and paintings.
And to add more vitality to the place you can distribute green plants in the corners of the room, and also the distribution of natural light that reaches across the windows in the morning and industrial lighting to direct it properly so it would not reflect on the TV screen and to provide good vision for reading and relaxing.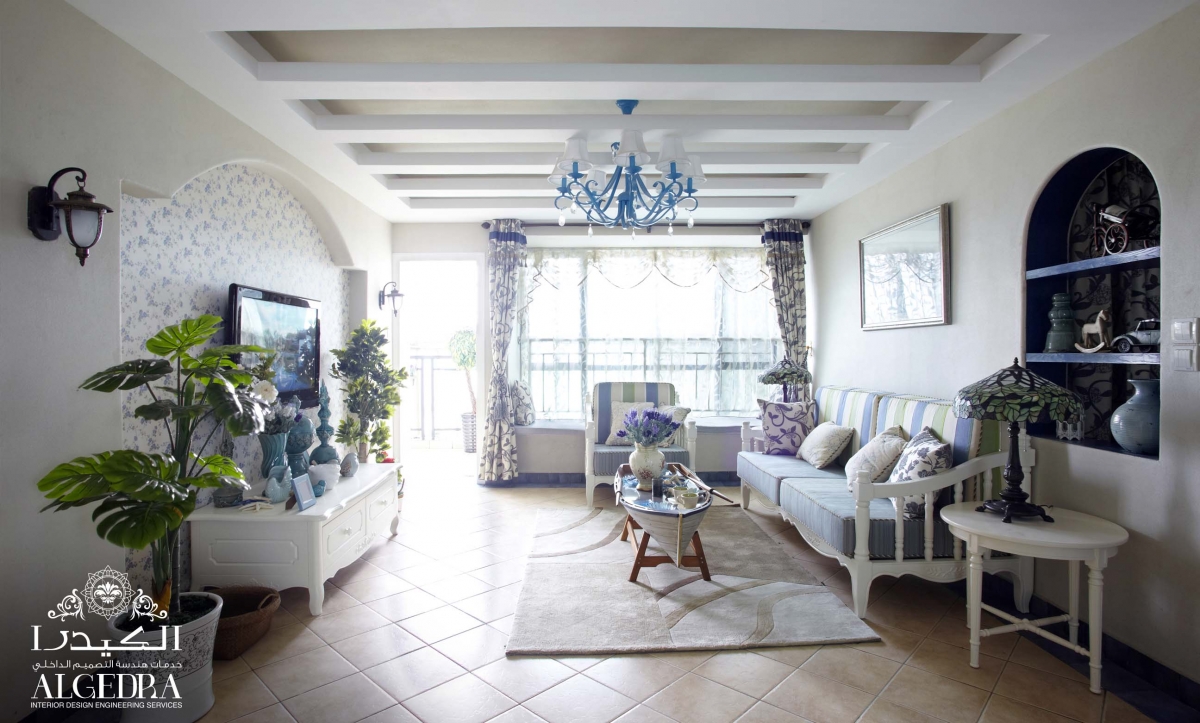 It is advisable to use yellow or red colors to provide warmth, but there is no color better than blue for calm and relaxation and the combination of the colors for the furniture, wall and accessories depend on your taste.
You can add a corner for food preparation or open up the dining room and kitchen to the room to add a modern look and a beautiful change to the house.
A corner for reading can also be added to the room for readers or a library for storing books or other things.
When you begin to buy the living room furniture you should start with large pieces first like sofas and a coffee table before carpets and decorations.
When choosing upholstery fabrics you must think of several factors such as cleaning methods and suitability for all seasons and taking into account that it lasts for a long time you must choose the good qualities. Our decoration experts at ALGEDRA advice to stay away from industrially treated wood.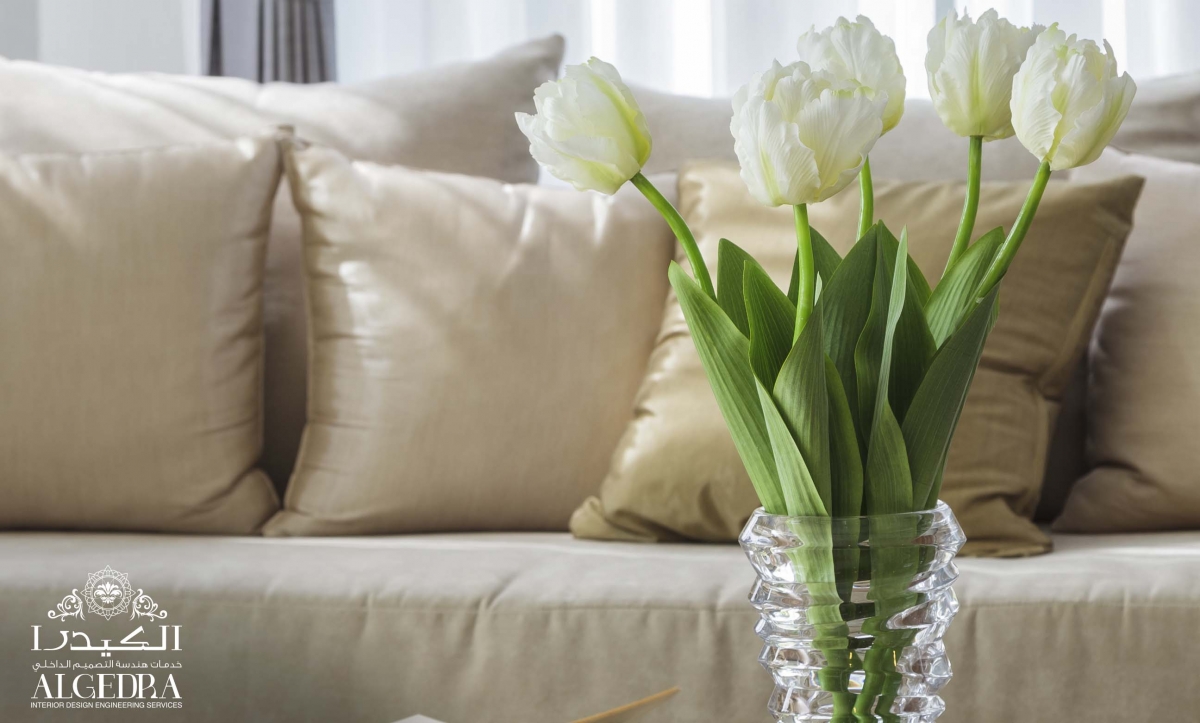 Value not a number. Do not add a lot of small pieces of accessories that may cause distraction. Instead, add little value so that you can have a great vase or a tray and place inside it a set of balls of different ores such as crystal, metallic synaptic wire, brass, and wood, so it will be curious for the eyes and adds a more attractive touch to the room decor.